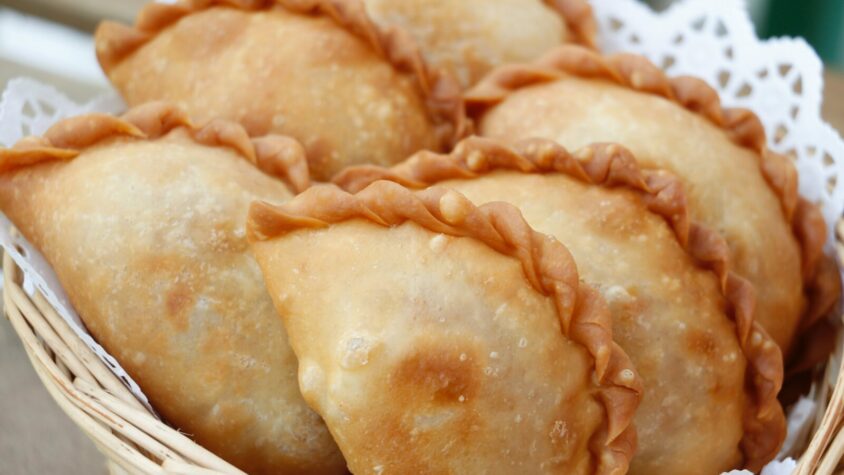 Chicken Empanadas
Making empanadas at home may sound a little intimidating at first, but we'll walk you through it. Once you try these we promise they'll be a part of your regular dinner rotation.
Ingredients
For the filling:
1 Lb. Chicken Breast, diced
2 Tbl. Olive Oil
2 Tbl. Butter
2 Tbl. Spanish Onion, diced
3 Ea. Cloves Garlic, minced
1 Tbl. Fresh Oregano, minced
1 Tbl. Cumin
1 Tsp. Aleppo Pepper
2 oz Hot Sauce, Franks
2 Tbl. Ketchup
For the dough:
2 Cups All-Purpose Flour
1 Tsp. Salt
4 Oz. (1 stick) Butter
1 Egg
1/3 Cup Water
1 Tbl. Vinegar
Preparation Instructions
For the filling: Sauté chicken in olive oil for 2 minutes. Add onions and garlic and continue to sauté for another 2 minutes. Add spices and herbs and continue to cook. Add butter and lower temp to medium. Continue to sauté. Add hot sauce, ketchup, lemon juice, and zest. Stir and cook for 1 minute. Cover and simmer for 20 minutes. When chicken is tender, flake apart and mix well. Set aside for later use. For the dough: Mix flour, salt and butter together in mixing bowl until butter is crumbly with flour. Combine egg, water and vinegar together, then slowly add to flour mixture. Once dough is formed, remove and let sit in refrigerator for 20 minutes to rest gluten. Roll dough out and cut out disks for making empanadas. Assmble: Whisk together 1 egg with 1/4 cup of water. Set aside. Take disk shaped dough and rub edge of dough with egg mixture. Place 1tsp of filling into center of dough disk and fold into a half moon shape. Seal by pressing fork around edges. Make sure to seal completely. Place on cookie sheet. Repeat until all dough is used. Bake at 350 degrees F. until golden brown.