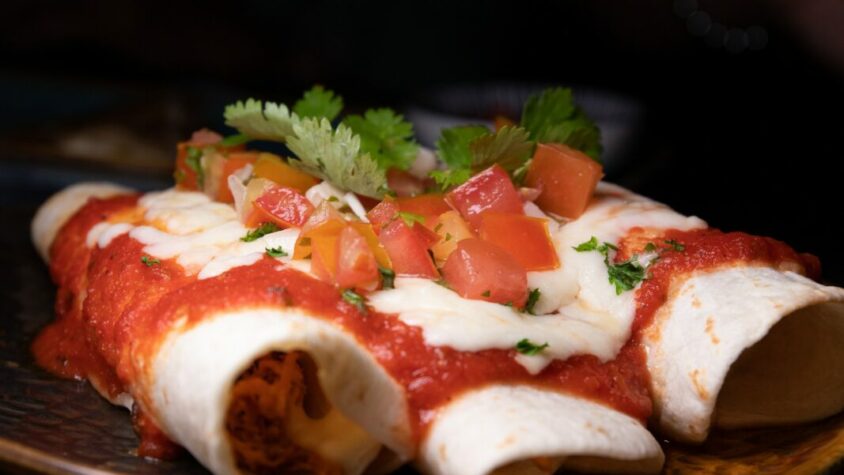 Beef Enchiladas
Skip the canned enchilada sauce! Enjoy these restaurant quality beef enchiladas at home, topped with a home made sauce.
Ingredients
For the Sauce:
2 Tbl. Olive Oil
1/2 Medium Onion
2 Tbl. Paprika
1 Tbl. Cumin
3 Cloves Garlic - Minced
28 oz. Can of Tomato Sauce
1 Can Green Chiles
8 oz. Chicken Broth
Salt & Pepper
For the Filling:
1 Lb. Ground Beef
2 Tbl. Diced Onion (for filling)
2 Cloves Garlic - Minced
8 Oz. Black Beans, drained
1 Package 8" Flour Tortillas
12 Oz. Cheddar, shredded
Prep time: 25 Minutes
Cook time: 20 Minutes
Additional time: 5 Minutes
Total time: 50 Minutes
Difficulty: Moderate
Preparation Instructions
Pre-heat oven at 350 degrees F. For the sauce: Place oil in a small sauce pan over medium heat. Add onions and cook for 1 minute. Once onions are translucent, add garlic and cook one additional minute. Add spices and continue cooking for 2 minutes. Now add the chiles, tomato sauce, and salt and pepper. When bubbling, turn to a simmer. Let simmer for 20 minutes. Set aside. For the filling: Cook beef in skillet, breaking apart to crumble beef. Add onions and garlic, and continue to cook beef til rendered and brown. Add black beans and continue cooking for 2-3 minutes, letting beans cook into rendered beef. Set aside for assembly. Assemble: In a 9x12" casserole dish, pour 1 cup of sauce to coat bottom. Lay 8" flour flat and spoon beef filling down center of tortilla. Roll tight. Place in dish, seam down. Repeat with all shells, then pour remaining sauce over enchiladas. Sprinkle 12oz of cheddar over enchiladas. Bake for 20 minutes. Let set for 5 minutes before serving.